Vacuum pet hair clippers from china wholesale pet supplies manufacturers TommyPet
Views: 5 Author: China Pet Products Manufacturer Publish Time: 2022-04-02 Origin: https://www.tommypet.com/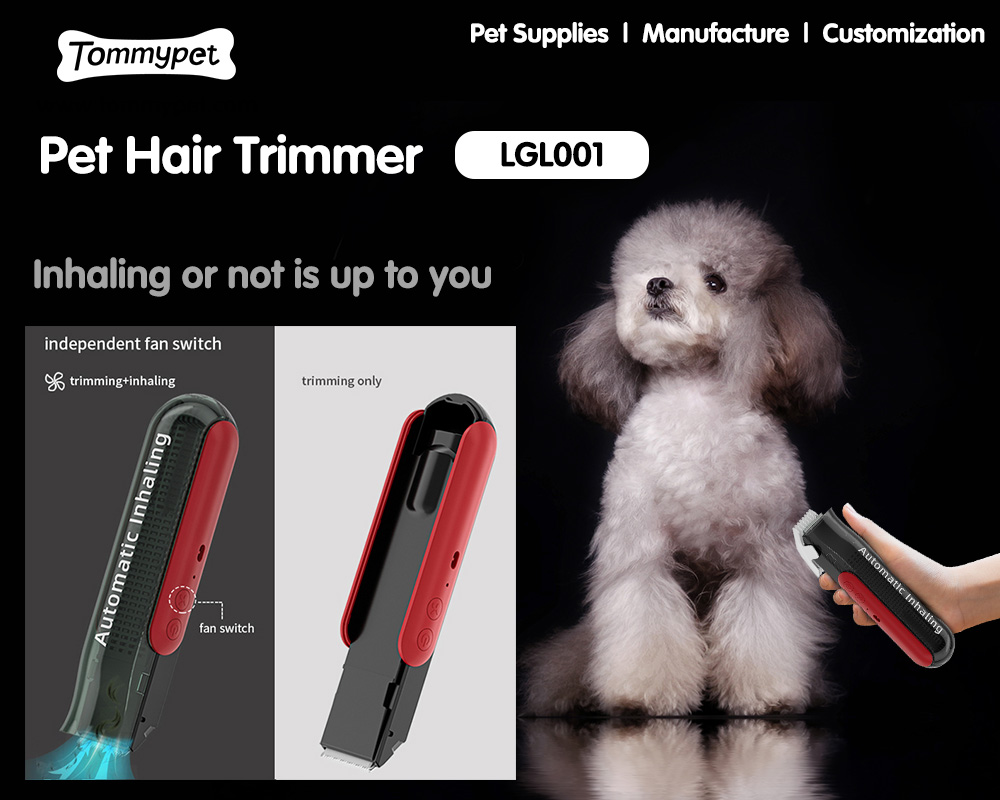 Vacuum pet hair clippers from china wholesale pet supplies manufacturers TommyPet
Dogs have been man's best friend for a long time, and there are times when they become so tightly knit that they become part of the family. It is not uncommon to see a dog who interacts with humans and thrives under the same roof. The same applies to other pets that we choose to live with.

However, regardless of how much a pet is loved, we have to do things to make a living within the same space possible. If you have a furred friend, you'd understand how important it is to groom them and ensure they are always at their best. At times, they shed fur, and things can get messy within the home. Apart from that, the coats are bound to overgrow, and they need clipping to maintain them and allow easy cleaning.
Some devices have been created to clean after our pets and groom them. You can find some of the best at Tommy Pet. One of the best is the vacuum pet hair clipper. This is a very important gadget to have around the home. It makes things so easy to do around the home. The vacuum pet hair clipper is designed with pets in mind. It is specifically meant for pet grooming and is great for dogs' fur. With such a clipper, it is so easy to clip the pet's hair without causing a mess all around.
How should the vacuum hair clipper be used?
Clipping pets is not an easy thing, and that is why so many people prefer taking the pet to a professional groomer to get things done the right way. It is important to make the grooming process as slowly as possible to ensure that the pet gets used to it. You need to introduce the pet to clipping in the right way, and having the right tool is a big part of how successful the entire process is.
Many things determine how a pet reacts to hair clipping. They include:
• The pet's age: older pets are maybe more tolerant or more aggressive depending on how irritable or trained they are. Younger pets may be very playful, and it may be tricky to get them to stay in the same position for a good hair clipping session.
• Noise: some pets are accustomed to noise, while others may be startled a lot. You know your pet best, and that is why you should select a vacuum pet hair clipper based on what works for a particular pet. If they don't like noise, try to pick an option with minimal noise to avoid irritating the pet.
• How tolerant they are to being touched: if your pet is already used to being touched or if you constantly groom the pet, using a vacuum pet hair clipper may not be that hard.
Regardless of how well behaved your pet is, it is always wise to take things slowly. Because of the vacuuming process, these clippers may be a bit noisy. Getting the pet to feel comfortable before turning the vacuum pet hair clipper on can go a long way in helping the pet relax.
If your pet is young and you are sure they may need regular clipping, ensure you introduce them to it at an early age. Using such gadgets around them or on them helps adjust to the sounds made and hair clipping using the same.For more about vacuum pet hair clippers from china wholesale pet supplies manufacturers TommyPet,you can pay a visit to https://www.tommypet.com/vacuum-pet-hair-clippers.html to know more.