Using a pet hair trimmer with a vacuum to get pet hair under control
Views: 11 Author: China Pet Products Manufacturer Publish Time: 2022-03-23 Origin: https://www.tommypet.com/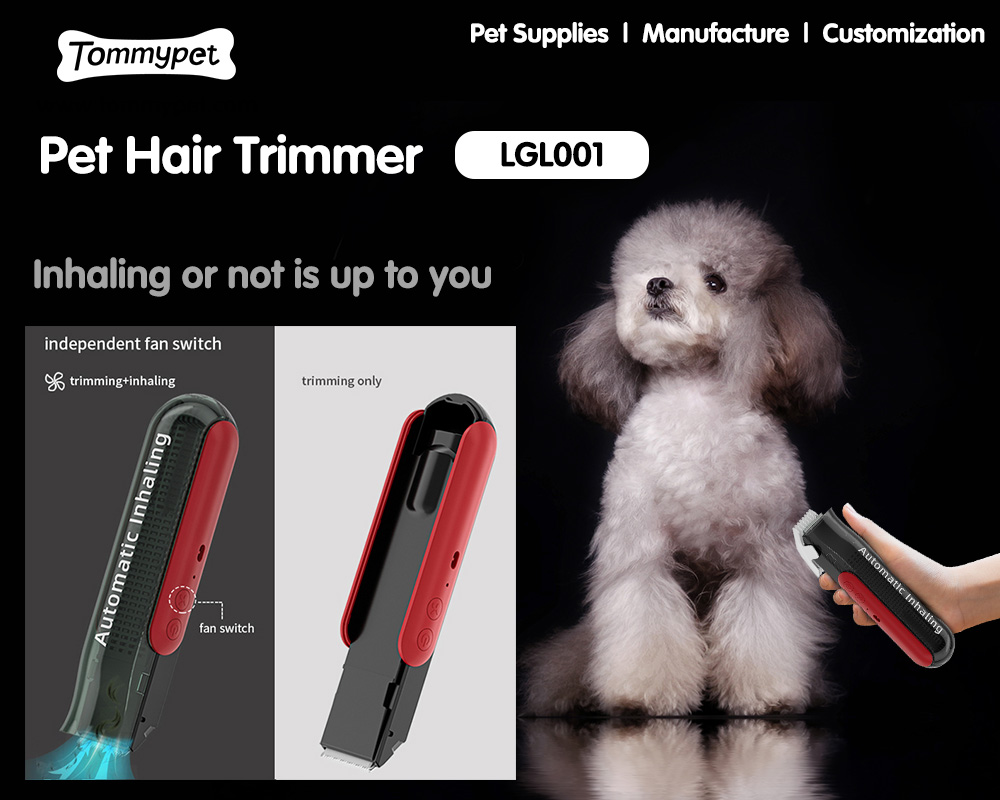 Using a pet hair trimmer with a vacuum to get pet hair under control
A pet hair trimmer with a vacuum, when created with the best features and functional attributes, can be one of the most important things that a pet owner could have, by understanding what works best, you can find a good trimmer from Tommy Pet and be on your way to easily manage your pet's hair.

What you should always remember is:
1. Speed may not always be something to consider, but you should never overlook power. For thick coats, power is more important than speed.
2. Daily needs are a great determinant of the type of trimmers or clippers that should be used. You may need a couple of hair clippers to get the job done.
3. You cannot use one type of pet hair trimmer with a vacuum on all pets. The needs of a cat are different from that of a dog. For a cat, quitter clippers that have fewer vibrations are the best. Thick and big coats require more power and torque while high-speed options can handle coats.
4. A trimmer should be bought based on the time you intend to use it during routine maintenance.
5. Ergonomics can break or make a clipper. Some people don't like vibrations. While this can be a deal-breaker for some, a part of the population still does not mind.
6. Take time to feel different tools in your hands before you settle for one. This gives you an idea of whether it is something you can work with or not.
7. For a pet hair trimmer with a vacuum, it is important to find an attachment that can be added to your favorite clipper. This is what you can access at Tommy Pet.
8. There is the cordless versus corded option to pick from. This is a very important decision because cordless clippers may be heavy because they have a battery. Find out what works best for you.
Whatever you feel you need, ask us, and we can help you make up your mind. We can offer valuable guidance, and we have some of the best options available in the market today.
Handling pet hair
With the right tools, you can control pet hair which is a very good thing. You can easily handle the hair by brushing pets and vacuuming. Grooming your pet can go a long way. However, you can clip the pet's hair for an even better outcome. This should be done with a pet hair trimmer with a vacuum. Getting such a tool is amazing as it cuts and sucks in all the hair, leaving a very little mess.
There are different brands in the market, but always pick your pet hair trimmer with a vacuum from Tommy Pet if you don't want to go wrong. Remember first to determine the kind of coat that your dog has before choosing. If you have to trim more than one pet, further considerations should be taken. Clippers can easily overheat if they are overused, and this can cause burns on your pet. Choosing a high-quality tool from Tommy Pet reduces the margin of failure, which is good.For more about a pet hair trimmer with a vacuum to get pet hair under control,you can pay a visit to Tommypet at https://www.tommypet.com/vacuum-pet-hair-clippers.html for more info.