Tommy pet functional vacuum pet hair clippers
Views: 9 Author: China Pet Products Manufacturer Publish Time: 2022-03-29 Origin: https://www.tommypet.com/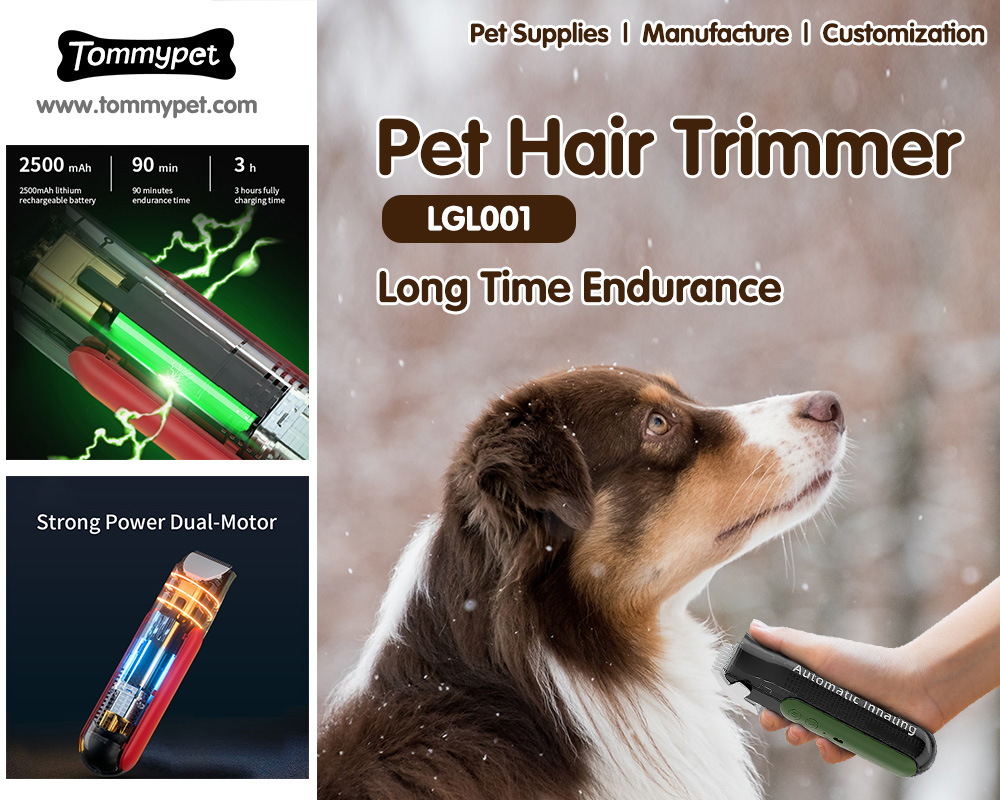 Tommy pet functional vacuum pet hair clippers
If you have a pet, grooming is a big part of your life. You need to keep that coat as tidy as possible. It is the only way to ensure your pet gets a thorough cleaning and hygiene is maintained at all times. By choosing vacuum pet hair clippers, things get so much easier. It means that you don't have to spend so much time cleaning after you are done trimming your dog's hair.

The best clipper
The vacuum pet clipper is the best option because it catches all the trimmed hairs and makes cleaning a breeze. The clippers are designed to collect hair and keep the area being shaved as clean as possible. In turn, this makes it possible to achieve a very consistent cut. Usually, the vacuum is attached to the trimmer base. These containers can be easily removed, and the hairs emptied after being cut. As for the vacuum absorbs any cut hair, which keeps the entire area very clean and near.
Vacuum pet hair clippers are meant to keep things neat and manageable. It is a big plus for pets that have to be groomed every while. The cordless models can be charged and used while on the go. They make it so much easier to maintain how your dog looks or give a quick trim before you go to the professional groomer.
What to consider
The first thing you need to consider when picking the best vacuum pet hair clipper is its functionality. It should be adequate to do the work at hand properly without leaving a mess. The cutting head needs to be neat, and it should have adequate space to collect the hair.
The vacuum pet hair clipper should also have a strong suction to handle everything cut. It is also important for the vacuum containers to have an opening wide enough to absorb the hair, and it should be easy to empty and clean the container once you are done. All these are important things that you have to bear in mind when picking the right clipper for your pet. It is the very reason why we put a lot of thought into the kind of supplies we send out to our clients.
Motor functions
The motor included in a vacuum pet hair clipper is very important, and it determines how successful the product will be in doing its work. Some clippers have more than one motor to make things more efficient. This gives you a lot of control throughout the cutting process. The motor should work so that functionality does not go down when you have to clip longer hair.
Quality of the blade
We understand how important the blade is and its role in giving a clean shave. The blades need to be of high quality. The blades should be robust and sturdy enough to handle cutting through your pet's fur as fast as possible. We use different materials to create our blades, which determines how much you end up paying for your vacuum pet hair clipper.
You may need extra attachments to ensure that things are done without problems arising. At Tommy pet, we put a lot of thought into what we create, which is why we deliver only the best.For more about Tommypet functional vacuum pet hair clippers,you can pay a visit to Tommypet at https://www.tommypet.com/vacuum-pet-hair-clippers.html for more info.