The best professional pet hair trimmer with vacuum attachment as seen on TV and why it is a popular choice
Views: 14 Author: China Pet Products Manufacturer Publish Time: 2022-03-15 Origin: https://www.tommypet.com/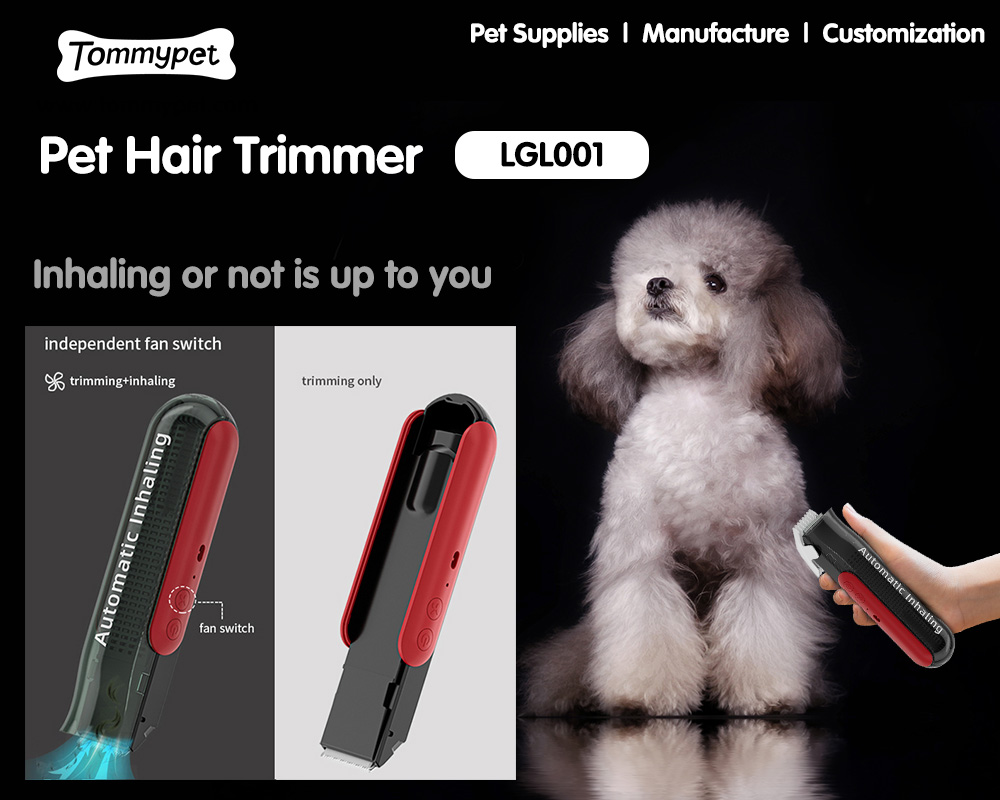 The best professional pet hair trimmer with vacuum attachment as seen on TV and why it is a popular choice
Pet hair trimmers have come a long way, and things have changed a lot over the years. They say necessity is the mother of invention, which is true of pet hair trimmers. The choices we had were minimal in the past, and many people forego the very act of trimming their pets because it was not that easy to accomplish. Others ended up doing a shoddy job. There is also a time where you needed a professional groomer to handle the work for you, even when the trimming work was not that complex or complicated.

Some of the changes witnessed today.
Technological advancements tend to make things so much easier for us. That is why we so willingly embrace it and let things flow. In the past, the pet hair trimmers were bigger and noisy. As time went by, things changed. Today, it is not hard to find a pet hair trimmer that can do the job without that excessive noise that could irritate your pet, especially when not accustomed to hair clipping.
There are also a lot of trimmers that bear detachable blades that can be easily cleaned and changed whenever the need arises. This is a great advantage to anyone doing the work professionally or at home.
Trimer with vacuum
The pet trimmer with vacuum is the latest technology in the field. It aims at collecting all the hair as it is shaved off. This means a clearer shaving area and an easier time cleaning up once the shaving is done. We have some of the best options at Tommy pet, and they can help you achieve a clean and even shave.
Before using such clippers, you need to get your pet accustomed to the gadget. You can use it around the pet even when it is not plugged in because of the vacuum. These machines are a bit noisy. Some pets are very sensitive to noise, meaning this gadget can take some getting used to. Pets are very intelligent and when you build trust, then using Tommy pet clippers becomes very easy.
What groomers want
For many Pet groomers, the main thing they are always looking for when picking the best pet major trimmers with vacuum is the possible speed. Today, you a find cordless and corded options performing at good capacity. This adds to how convenient using such units are, and it is a welcome thing, especially in a professional setting.
Pet hair trimmers with vacuums are gaining a lot of popularity today. This is because they are being desired to be lightweight and smaller. There is also the cordless or corded option that you can pick from. There are cordless machines that can still be used while still connected to power, and they work adequately.
Because of the great number of choices available, you have the option to choose wisely. We create the highest quality pet hair trimers with vacuum to ensure that grooming time is easier and faster.For more about the best professional pet hair trimmer with vacuum attachment as seen on TV and why it is a popular choice,you can pay a visit to Tommypet at https://www.tommypet.com/best-professional-vacuum-pet-hair-clippers-hair-trimmer-as-seen-on-tv-and-what-really-matters.html for more info.