Considerations to make when picking the best dog grooming clippers for home use from wholesale pet supplies manufacturers
Views: 53 Author: China Pet Products Manufacturer Publish Time: 2022-01-07 Origin: https://www.tommypet.com/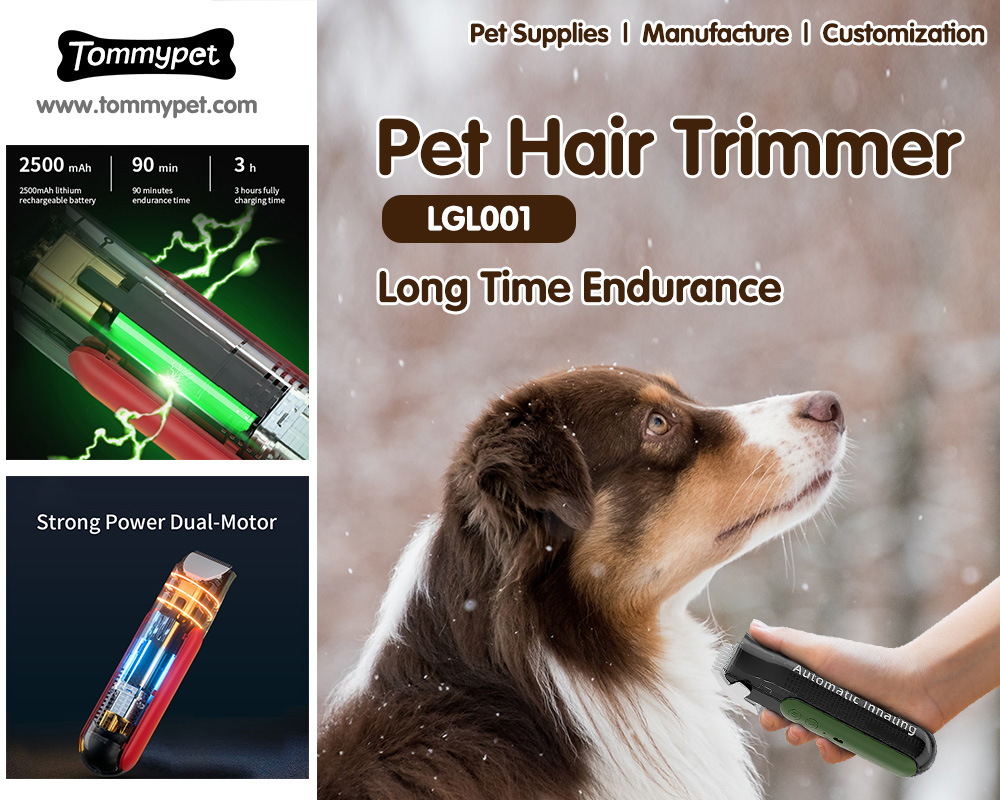 Considerations to make when picking the best dog grooming clippers for home use from wholesale pet supplies manufacturers
Tommypet creates some of the best dog grooming clippers for home use. Our clippers come with different functional and useful features that make things much easier for you when taking care of your pet. We also deal with all sorts of pet accessories needed in the pet world. Finding a high-quality product is always guaranteed if you choose us.

Blade types
Picking the right blade can make a very huge difference. At Tommypet, there are different blades that you can choose from, like High precision carbon blades, stainless steel blades, ceramic blades, and titanium blades. The blade quality determines how easy it will be to trim your pet's hair and how the pet will respond to the trimming process. Picking a blade with integrity can make the pet very restless, which is not a good thing. It helps to pick a good clipper.
Variable or single-speed
Different pets have different fur types. Different breeds also have different types of fur. We know that this difference exists, so we offer different products that can offer different speed options. This makes it so much easier for you to work at an ideal speed for your dog. You should consider picking a variable speed kind of clipper as it offers you a much better chance of getting the best speed for the pet. If you have different dog breeds in your home, you should know that they may all need different speed rates. There are some variants that we have that offer a variable speed. This is to say. You don't have to buy a new gadget for each breed in your home.
Noise level
Tommypet dog grooming clippers come with motors but low-noise ones. These operate in the best range that does not irritate the dogs they are used in. Getting the best noise level works much better with pets as they don't agitate the pet when trimming is in progress. You need to find a product that operates within the right range.
Operating temperature
When used for a long time, it is normal for clippers to heat up. When you realize that the clipper is heating up, you should first stop using it and let it cool down. Continuing with the grooming could irritate the dog.
Motor power and speed
You have to consider the motor power and speed. The best dog grooming clippers for home use should be capable of handling reasonable speed and power every minute. A good device should hold power for at least forty minutes after charging.
Cordless and corded options
Pick a cordless tool that has the best batteries. The two options are available at Tommypet. The cordless options are great because you may use them on a dog that moves around a lot, making it hard to negotiate a corded tool. Our clippers come with lithium-ion batteries that ensure longevity and durability.
Weight and size
We have products that are designed with you in mind. The size and the weight are very crucial. It makes no sense to use a product that leaves you with arm fatigue.
When the trimmer is too heavy, holding it until you complete the trimming process becomes a challenge.
Tommypet has the best accessories. We have the best dog grooming clippers for different fur types. We have exactly what you need.
For more about the considerations to make when picking the best dog grooming clippers for home use from wholesale pet supplies manufacturers,you can pay a visit to Tommypet at https://www.tommypet.com/vacuum-pet-hair-clippers.html for more info.