Can beginners use vacuum pet hair trimmers hair clippers for dogs and cats?
Views: 2 Author: China Pet Products Manufacturer Publish Time: 2022-03-08 Origin: https://www.tommypet.com/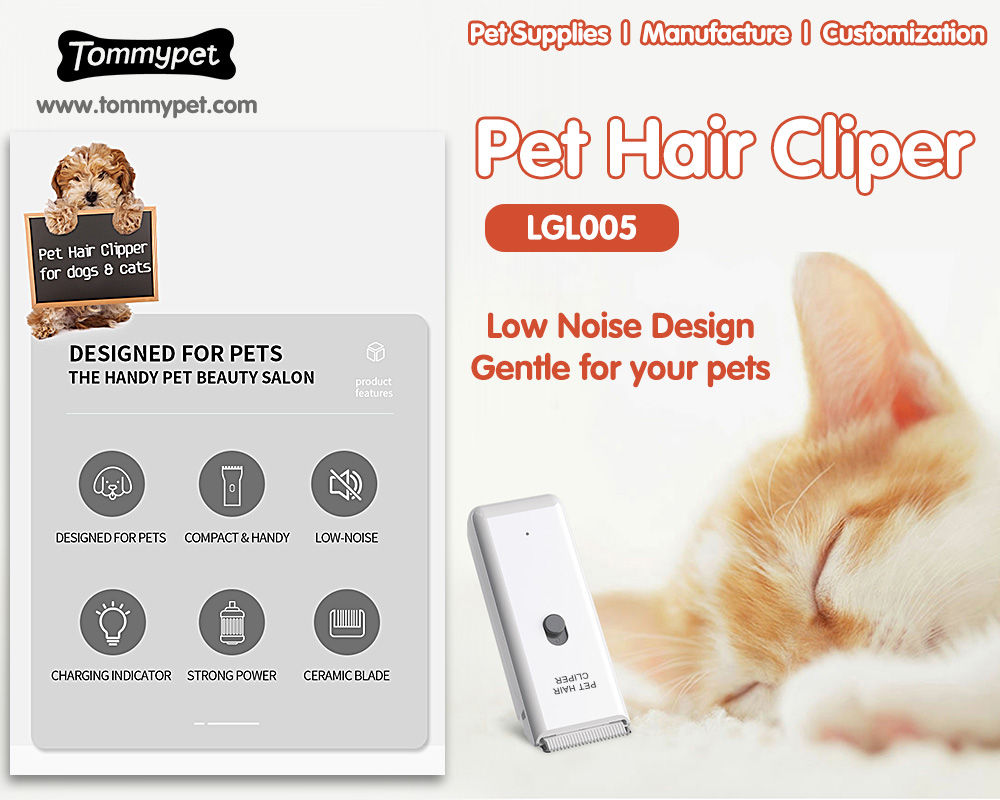 Can beginners use vacuum pet hair trimmers hair clippers for dogs and cats?
If you decide to take care of a dog, you should be ready for many things that are associated with the dog. The training bit makes it easier for you to share the same roof and co-exist. It can be very satisfying to have a dog around your household by doing it right. One other thing you should remember to deal with is trimming the dog.

Dogs are not all the same. Some dogs shed fur while others don't. If you suffer from fur allergies, there are some dog breeds you cannot live with. Regardless of the dog breed to choose, there is always some level of grooming that is required. It may not always be practical to go to the groomer's office every time. This is why you need to handle some of these things on your own at home.
In most cases, it is wise to trim the dog's coat over the warmer summer months. By choosing to handle the task at home. It can get a bit comfortable for the dog because he is around familiar surroundings, allowing him to take things easy and relax while the grooming is ongoing.
The tools
There are professional grade tools and other tools ideal for beginners. It is always a good idea to know what you need for your specific breed to get it right. The best pet hair trimmer for dogs should be capable of handling your dog's coat as it should be. Many options are available, each bearing the best features and different benefits. There are different price ranges as well. Ata Tommy Pet, we make things easier for you, which is a brilliant thing at the end of the day.
When choosing the right pet trimmer for dogs, it is wise to pick a kit designed for a particular dog breed or something closest to your breed. You also have to choose something that:
• Doesn't create too much noise during use
• has a comfortable grip and within an acceptable weight range
• one with long battery life in case of a cordless option
The most important thing is to plan well and know exactly what you are doing at all times. You should learn about the breed standard, if any. The breed guidelines can be a great way of knowing how best to handle your pet's grooming needs based on lifestyle, health, and comfort.
Learn from the best
Professional groomers can offer great insight on how best to trim your pet. You can also get more insight from breeders, dog trainers, or vets. They can give you information that can prove very valuable, and this can assist you to have a successful time clipping that dog. You may also get trade secrets that could establish you in the clipping field. If you observe how your dog is handled at a groomers shop, you get an idea of how you should do things at home.
With the right training, knowledge, and motivation, a beginner can successfully use a pet hair trimmer for dogs and achieve some outstanding results at the end of the day. It may take some time, but it is very possible.For more about vacuum pet hair trimmers hair clippers for dogs and cats,you can pay a visit to Tommypet at https://www.tommypet.com/pet-hair-clippers.html for more info.