What to expect from china wholesale pet clothing and wholesale pet apparel distributors?
Views: 4 Author: China Pet Products Manufacturer Publish Time: 2022-04-20 Origin: https://www.tommypet.com/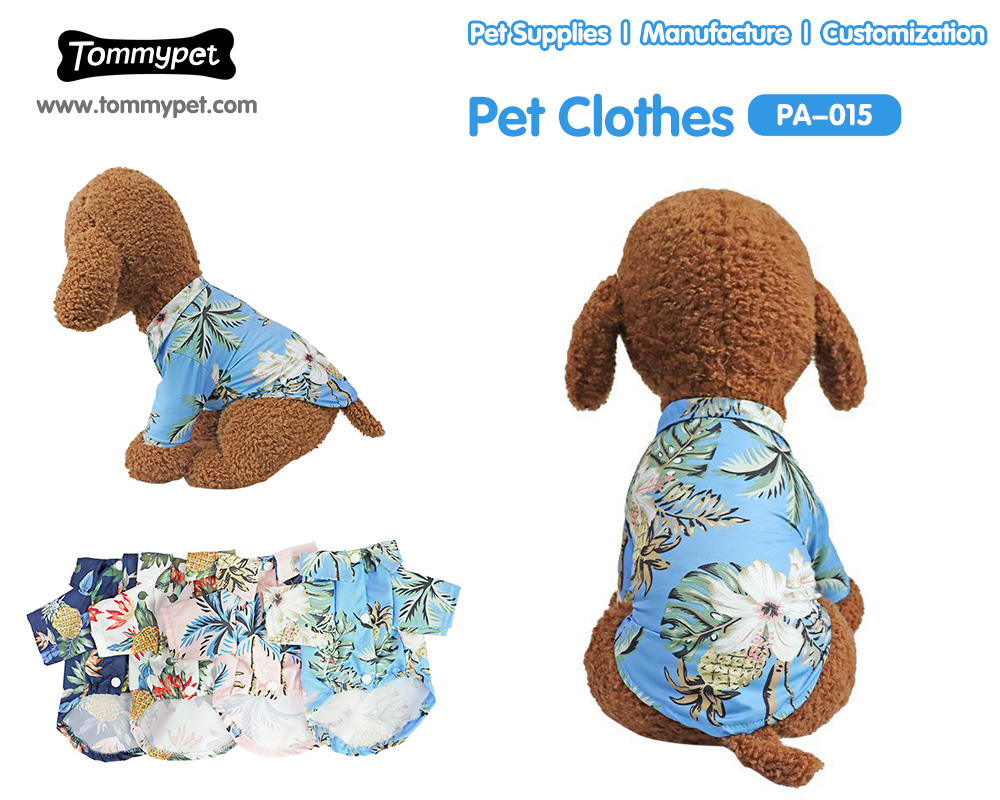 What to expect from china wholesale pet clothing and wholesale pet apparel distributors?
Seeing a clothed pet is one of the cutest things. This is one trend that has taken the world by storm, with so many pet parents purchasing some of the best outfits. Some are custom-made to suit different occasions. The pet apparel industry is doing well, and pet clothes manufacturers don't disappoint. New ideas are being introduced into the market every day.

For some pets, clothes are a necessity. Some pets get protection by having an extra layer, especially on damp or cold days. Cold seasons are the main reason why you might see pets wearing booties. For the fashionable parents, festive holidays see their furry friends dressed in costumes or attires that match the season.
Wholesale pet clothing distributors
Wholesale pet clothing distributors are aware of the large pet market and try their best to make the most out of it. One thing to note about pet clothing is that it should be comfortable, or something may not be so nice for your pet. To be comfortable, the clothes should be made using the highest quality material, and they should be a good fit.
If you are running your pet apparel store, you should find a wholesale pet clothing distributor to supply everything you may need for your business. There are different types of pet clothing you can get from a wholesale distributor. When looking for one, make sure they have a wide variety. It is important to understand your local market first. This helps you determine the type of clothes that you should stock. By stocking blindly., you may end up with stock that no one wants to buy. When you find the best distributor, you can then find out whether they stock the things that you need or not.
Tommy pet
Tommy pet is one of the best places to source your pet apparel. We can also custom-make anything that you want that is pet-related. This helps you bond easier and better with your client base. Most people who have pets are very committed. This means they invest their time and money in the pets and always aim to give them the best.
At Tommy pet, you can find all sorts of apparel pieces. We have everything from sweatshirts, coats, and sweaters to dresses, hoodies, pajamas, booties, raincoats, and many other options. Usually, you buy pet clothes based on your need in mind. You can also purchase holiday-themed pet clothes to rhyme with the season. This is why Tommy pet has the widest range of products, and some are themed for those special occasions.
Coats and sweaters are designed for pets who need extra help to stay warm. This is mostly for dogs pr pets with thin skin and four layers. The cold seasons can be really bad, and helping out the pet is always wise.
Tommy pet has a size chart that you can easily compare to your dog. You will need to know the size of the pet's chest and beck to be sure. While it should be snug clothing, it should not be tight because the pet may get uncomfortable.
By finding the best wholesale pet clothing distributors, you can have all you need to run a successful pet apparel business.For more about china wholesale pet clothing and wholesale pet apparel distributors,you can pay a visit to tommypet at https://www.tommypet.com/fashion-dog-clothes.html for more info.