Helpful tips when using vacuum pet hair trimmers hair cutter for dogs and cats
Views: 5 Author: China Pet Products Manufacturer Publish Time: 2022-03-02 Origin: https://www.tommypet.com/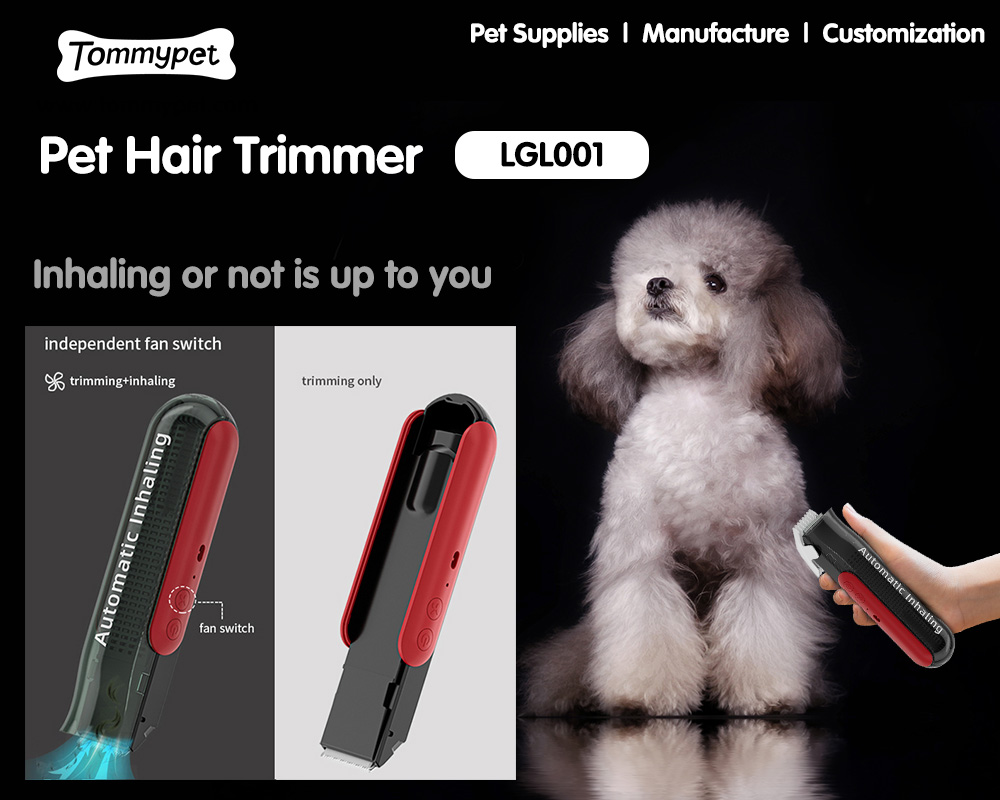 Helpful tips when using vacuum pet hair trimmers hair cutter for dogs and cats
When you decide to start trimming your pet, it is wise to get an idea of how things should be done. The best thing is visiting a professional and getting some firsthand information on how things should be done. They can guide you on how to clip the coat according to the breed. The groomer can also give you some helpful tips on what you should avoid and how to handle different parts of your dog's body so that you don't get too close and cause harm to the skin. They can also guide you on the best comb attachments and blade selection.

The best blade
For a pet hair trimmer for dogs to work well, it needs to have the most appropriate blade. You need to appreciate that different blades work differently for different breeds. They also create different kinds of effects on the coat. If you have doubt, you can ask for more guidance or try the snap-on combs. When dealing with a dog with long hair, it may be necessary to use different blades and comb attachments to achieve the best cut that you desire. If the dog is short-haired, pick a single blade as it can work perfectly in some cases.
Understand your breed
When trimming your dog's hair, you can choose the right tools. However, you will have to understand that particular dog breed to do things the right way. Even though you can get creative in your trimming actions, it is still important to know how that dog breed looks like in the real world. This is something that can be accessed on a bred club website. On such a site, you can access many grooming tips that are specific to your dog. This will give you an idea of how the dog should look once they get a trim. Some dogs have a very challenging coat, and what a professional groomer can achieve may differ from what you achieve at home. Having an idea of how the final outcome ought to be is a good thing and can be used as a guide.
Don't let the clippers become too hot.
If you are not careful, it can be easy for you to hurt your dog. The clippers may become too hot to handle and can cause burns on the dog's skin. Always turn off the clippers from time to time and touch to test the temperature. If you feel they are a bit too warm or hot to touch, you need to correct that by:
• Changing the blade for cooler ones if you have extras
• Use another clipper in case you have a spare one
• Use a lubricant or a coolant on the clipper to cool it down
• Place the blade on a metallic thing like a baking sheet to absorb heat
Start grooming as early as possible.
It is important to get a pet hair trimmer for dogs from Tommy Pet, even if your dog is only a puppy. You should never wait too long before you start using clippers on your dog. This gives you a chance to train the puppy early. Grooming early allows the pet to accept hair clipping as normal, and therefore, you will have less trouble even when it is all grown.For more about tips when using vacuum pet hair trimmers hair cutter for dogs and cats,you can pay a visit to Tommypet at https://www.tommypet.com/vacuum-pet-hair-clippers.html for more info.