Getting the best dog clothing products from pet apparel suppliers and manufacturers in china
Views: 35 Author: China Pet Products Manufacturer Publish Time: 2022-05-09 Origin: https://www.tommypet.com/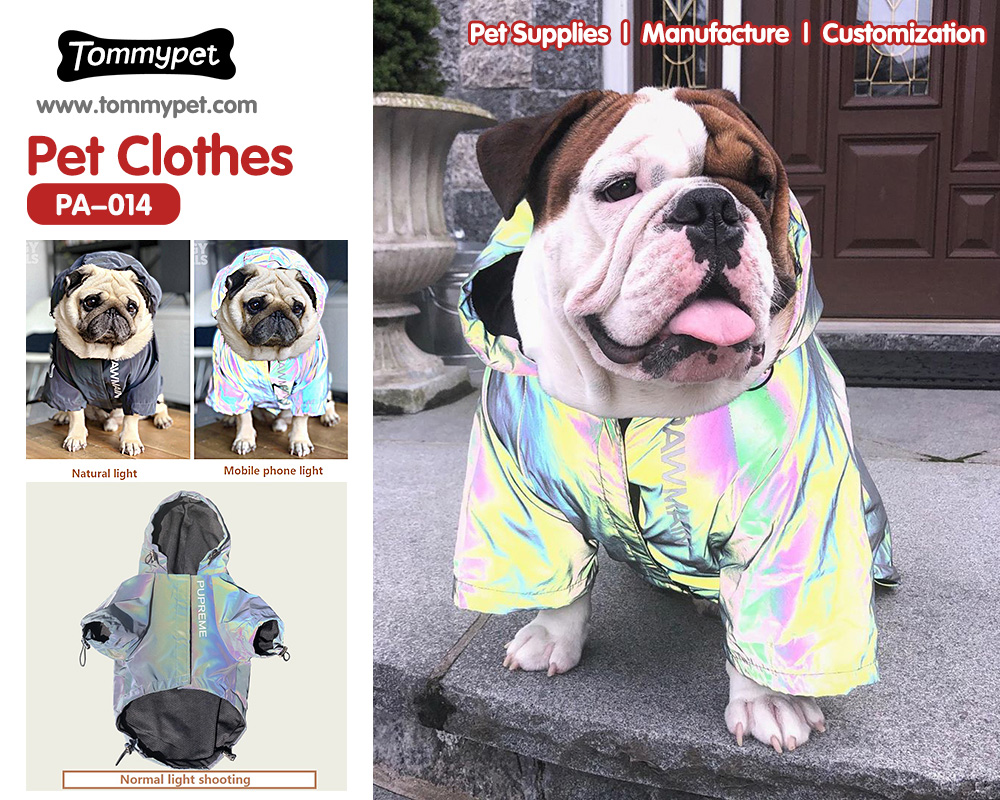 Getting the best dog clothing products from pet apparel suppliers and manufacturers in china
To some people, pets are the most important thing, and for a good reason. These are companions that we keep, and they sweeten our lives in a big way. If you own a pet, you may want to find some of the best apparel for your furry friend.

Finding the appropriate apparel for your dog or pet means looking for the best pet apparel supplier. Such suppliers ought to give you a wide range of options and items specific to your pet breed. Each pet has its own requirements.
More people are getting pets, and because of this trend, the pet products industry is doing so well. People are willing to spend more on their pets today than the years before. This is a trend that keeps on going up.
Because of this popularity, more manufacturers and suppliers are entering the market to provide the best products.
Pet apparel industry
In the past, seeing anything related to pets was very rare. Today, things have changed, and pet owners have many options to peruse through and choose from. It is not just random dog sweaters. There is more. There are pet stores where you can find all sorts of ties, collars, bows, dresses, and coats for pets. The industry also includes holiday wear like costumes for Halloween and Christmas wear, for example. More and more people want to spend more on the pets they own.
A pet apparel supplier should be very clear about what they offer. Most suppliers try to bring something exciting and fresh to the market to make them popular and encourage purchases. With so many options available and manufacturers going steps further, pet suppliers should have enough selection for pet owners to choose from.
Experience
The best suppliers should have the necessary experience regarding how the pet industry works. It is important to understand the kind of needs the pet owners have. This need will assist you in making the right choice regarding what ought to be stocked.
The suppliers should learn about the available designs and be in a position to recommend specific choices for specific breeds. Having a wide variety of items for sale helps a supplier tap into a wider market and get better returns.
Designs
Pet apparel suppliers ought to have a variety of designs for the buyers to choose from. The highest quality fabrics are the best because they tend to be more comfortable for pets. Different apparel items include costumes, pajamas, ribbons, ties, t-shirts, denim, dresses, wedding apparel, hoodies, rain jackets, sweaters, and coats. Suppliers often deal with specific manufacturers to source the best items available.
Pet carriers are also very common. Choosing a good supplier means access to the highest quality items at a favorable cost. At Tommy pet, you can expect the best items at all times. There is such a wide range of items that you can pick from for your pets. You can get as specific as you want, and we can guide you in making the right choice.
For more about the best dog clothing products from pet apparel suppliers and manufacturers in china,you can pay a visit to Tommypet at https://www.tommypet.com/fashion-dog-clothes.html for more info.