Why wholesale dog clothes manufacturers and suppliers have become so popular today
Views: 4 Author: China Pet Products Manufacturer Publish Time: 2022-04-25 Origin: https://www.tommypet.com/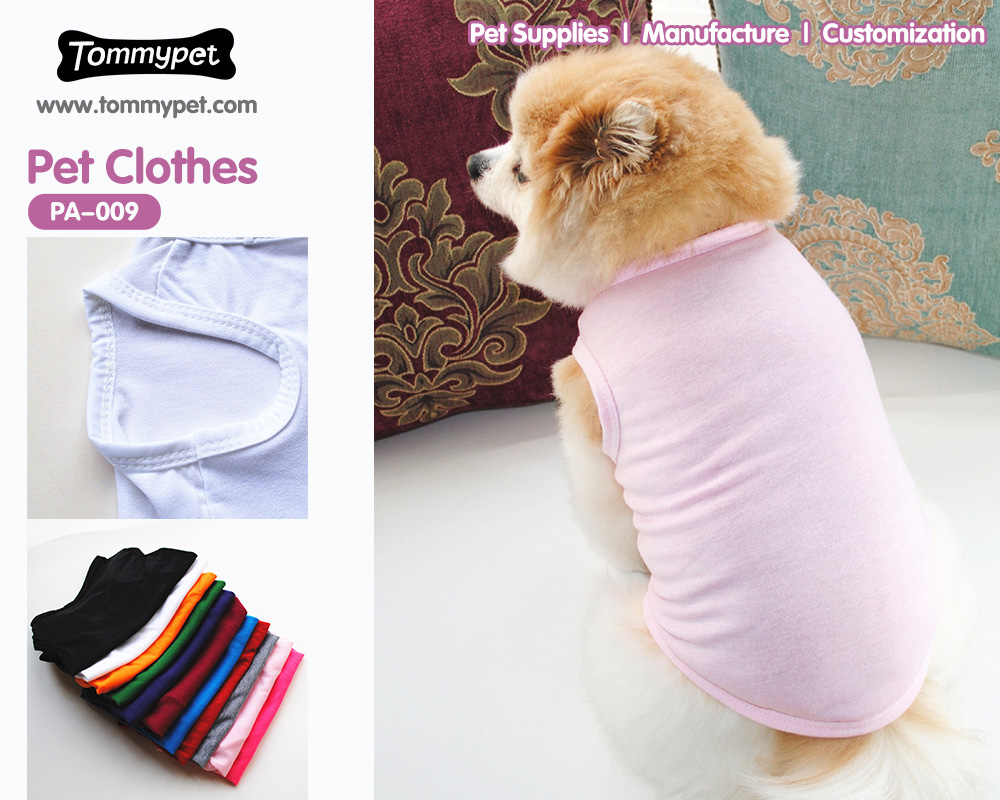 Why wholesale dog clothes manufacturers and suppliers have become so popular today
When you think about dogs and clothes, I think one of the main things you may be wondering about is whether they need clothes or not. This could be a boy puzzling for some, but it is their reality for others. Today, it has become normal for people to dress their pets up and sometimes very fashionably. Some owners are reluctant to follow the trend, whereas others adopt the trend to ensure their pets are warm enough, especially during the colder winter months.

This rise in demand for dog clothes has led to the popularity of dog clothes manufacturers. They don't only stop at creating the best dog fits, but also accessories and booties to match and complete the look. Manufacturers can make custom fits to ensure that your dog gets the best.
At Tommy Pet, you have the chance to search for exactly what you need. There are so many outfits that you can choose from and accessories that match your personality and the personality of your dog. You can pick stylish outfits for certain events or seasons as well.
The natural coat of a dog is designed to provide enough insulation and protection when the weather changes. However, older dogs and puppies could use an extra layer for comfort, especially with the colder winters.
Is it wise to create coats for dogs?
Dog clothes manufacturers create different garments, including dog coats. These aim at keeping the dogs dry and warm when it gets too cold. Different dog breeds can be susceptible to weather changes, so having a dog coat or a sweater can make things bearable.
Dogs are not all the same. Some cannot tolerate the colder environments where they happen to live. They can get very uncomfortable in such situations. Some dogs deal with medical issues and could benefit from some extra warmth.
Dog coats are not a necessity for all dogs. Some can handle the cold weather even better because they have undercoats. Before you dress up your dog, find out how much they need to be dressed up. You may cause a lot of discomfort to an already comfortable dog despite the weather. Coats are not for every dog.
Also important to note is that some dogs may be uncomfortable when dressed up. In some cases, you may have to give it time and allow the dog to get accustomed to being dressed up. Starting lightly and then moving on can be a great way to start.
Coats are usually created for the smaller dogs that can benefit from the extra warmth. The dog needs to be measured accurately to ensure that wearing the coat will not make movement difficult.
Best manufacturers
You should be able to find something suitable for your dog and something practical enough. Dog clothes manufacturers create the best clothes that match different breeds of dogs. At TommyPet, you have the chance to find the best clothes for your pet and functional accessories.
For more about wholesale dog clothes manufacturers and suppliers,you can pay a visit to Tommypet at https://www.tommypet.com/fashion-dog-clothes.html for more info.