Give your dog the best professional vacuum haircut with the best cordless dog clippers for home use
Views: 14 Author: China Pet Products Manufacturer Publish Time: 2022-01-18 Origin: https://www.tommypet.com/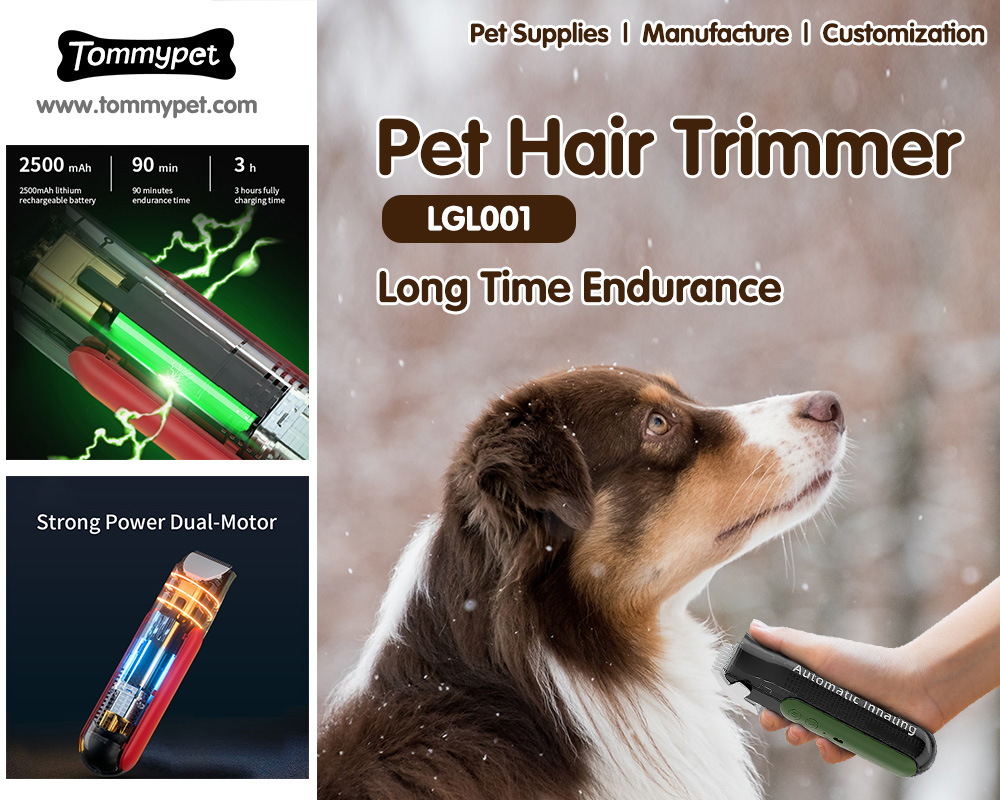 Give your dog the best professional vacuum haircut with the best cordless dog clippers for home use
Picking the best cordless dog clippers for home use involves speed, operating temperature, noise level, ergonomic design, and blade quality. With all these things in mind, you can never really go wrong. If you can account for all these features, you can enjoy the very best performance.

There are times when humans love to experiment, and that is why some try using human hair clippers on dogs. However, by getting dog clippers, you get something designed to be used on pets. Human hair and dog hair are not the same.
Human hair clippers are usually rather busy and can cause the dog to be very nervous, which is not good. Using a product that is not meant for the dog can cause permanent damage where the dog becomes agitated every time you attempt to groom him.
The very design of human hair clippers is not for them to run for a very long time. When overused, overheating can occur, or the blade may get too hot. The skin of a dog happens to be very sensitive, and the overheated clipper can cause injury to the pooch. Even though the two clippers may look very similar, there are many differences in the design. Every pet needs its own grooming kit for safety and functionality.
Getting your dog the best haircut
With the products available at Tommy Pet, it is easy to find the best cordless dog clippers for home use. Every dog lover understands how great it feels to see a dog happy within the home. Eventually, that pup becomes an integral part of the family, and you would do anything to ensure he is comfortable and loved. Shedding is one of the things you' ll have to contend with if you do choose to live with your four-legged friend.
You can easily deal with Shedding, especially if you get the best cordless dog clippers for home use. It can be very manageable. When you give your furball that much-needed haircut. You reduce shedding to a great extent. It is also beneficial for the pet. There are instances when hair may be blocking your pet's eyes. In such a case, they may not be seeing clearly. By getting the hair out of the way, you will be doing your pup a favor.
Are cordless dog clippers for home use adequate?
It is not always easy to pick products. Tommy Pet makes things so much easier for you. While not everyone can use the professional-grade clippers, these ones can be rather easy to use. If you are not very experienced in clipping, it helps to start somewhere where things are much simpler.
Home clippers are a good idea if you want to learn more at home. They can be operated easily and are not complicated. You can upgrade to a professional-grade clipper when you get the hang of things. There are many models available today, and you can choose the best.
The best cordless dog clippers for home use are a good choice and can be used between professional grooming sessions. You don't have to wait until you go to a professional. You can do some of the trimming and maintenance at home.For more about give your dog the best professional vacuum haircut with the best cordless dog clippers for home use,you can pay a visit to Tommypet at https://www.tommypet.com/vacuum-pet-hair-clippers.html for more info.